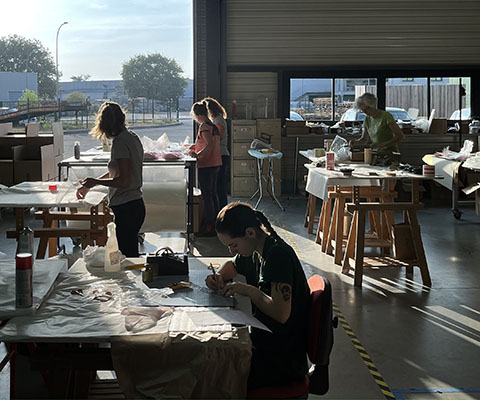 "Creativity and craftsmanship committed to creating more sustainable ephemeral settings."
Conceived by the entire AuMa team, this short phrase, known as "purpose", highlights the company's identity, its mission, and its contribution to the challenges of sustainable development.
It is around this vision that the company wishes to flourish, accompanied by its various stakeholders: customers, suppliers, partners, and employees.
AuMa's current ambition is to obtain recognized CSR certifications. Already certified Ecovadis, AuMa aims for BCorp certification in 2023. These demanding labels promote the transparency of business models and enable AuMa to join a community of companies sharing common values.
Our Impact Report 2022/2023
CSR throughout the project: through project lifecycle analysis
1.

Listening : During the initial listening phase, project managers encourage customers to opt for eco-design. The company's material library and the expertise of project managers guide them to use materials from identified environmental sources, with low transport requirements.

2.

Design : In the second phase, the design phase, the engineering, and design department strives to propose concepts that are easy to transport, easy to dismantle and not too bulky, while keeping design as the priority.

3.

Production : During this phase, the company sorts its waste and bans certain materials. New suppliers are selected based on their commitment, and old suppliers are made aware of the need to support AuMa in its efforts. Some are Entreprise Patrimoine Vivant-certified, and more generally they all have developed an appetite for CSR.
4.

Logistics : For the fourth phase, logistics, AuMa favors environmentally friendly transport and eco-designed sub-packaging, while respecting its customers deadlines.

5.

Installation : Finally, for the fifth and last stage, the installation of scenography on its customer sites, the company is committed to planning as closely as possible to the real needs of the project, raising the awareness of its partners and optimizing material and human resources in a reasoned way, as well as transport (using the train, for example). What's more, the company's vehicles are 100% electric to minimize our carbon footprint.